Helping our clients
to increase sales for over twenty-eight years
inaCátalog Mobility Sales is the sales app developed at Inase. Our company is made up of exceptional clients, a great team of people, plenty of dreams, over twenty-eight years' experience, numerous goals achieved… and every year, every new client and every new challenge which we are yet to learn about and deal with. Who we are, where we want to go and which route we want to follow with our clients? It is our mission to supply companies with the best application for mobile sales and management of sales teams which will help them to boost their sales, improve results and achieve success, always guaranteeing the simplicity, ease of use, speed, security and direct dealing with the customer. In order to achieve it we work from continuous improvement and we undertake to apply the highest standards of quality and innovation. This is the only way we know to constantly exceed the expectations of our clients and make inaCátalog the reference application which continues to revolutionise the way companies understand sales.
Advantages of working with us:
The value of a team that is committed to your success

Technical and sectoral specialization


A project that is ready to use




Commitment and involvement

Present in more than 100 countries
from America to Oceania, through Europe, Africa and Asia
inaCátalog enables thousands of agents and business managers work daily on 5 continents and in 12 different languages, no matter where they are or their time zone. Therefore our sales and commercial management application is your best ally to accompany and enhance your internationalization strategy.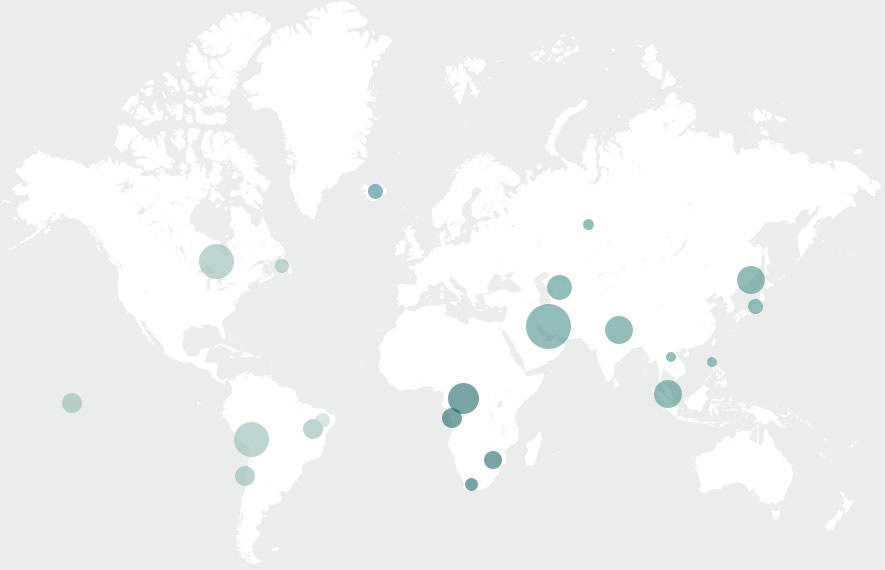 21
América
12
África
46
Europa
23
Asia
2
Oceanía
América
Antigua and Barbuda

- St. John's

Argentina

- Buenos Aires

Bahamas

- Nassau

Bolivia

- La Paz

Brazil

- Brasília

Canada

- Ottawa

Chile

- Santiago

Colombia

- Bogotá

Costa Rica

- San José

Dominica

- Roseau

Dominican Republic

- Santo Domingo

Ecuador

- Quito

Guatemala

- Guatemala

Guyana

- Georgetown

Honduras

- Tegucigalpa

Mexico

- Mexico City

Panama

- Panama City

Peru

- Lima

Puerto Rico

- San Juan

United States

- Washington DC

Venezuela

- Caracas
África
Algeria

- Algiers

Angola

- Luanda

Democratic Republic of the Congo

- Kinshasa

Equatorial Guinea

- Malabo

Ivory Coast

- Yamoussoukro

Libya

- Tripoli

Morocco

- Rabat

Mozambique

- Maputo

Nigeria

- Abuja

Republic of the Congo

- Brazzaville

Senegal

- Dakar

South Africa

- Pretoria
Europa
Albania

- Tirana

Andorra

- Andorra la Vella

Austria

- Vienna

Belarus

- Minsk

Belgium

- Brussels

Bosnia and Herzegovina

- Sarajevo

Bulgaria

- Sofia

Croatia

- Zagreb

Cyprus

- Nicosia

Czech Republic

- Prague

Denmark

- Copenhagen

Estonia

- Tallinn

Finland

- Helsinki

France

- Paris

Georgia

- Tbilisi

Germany

- Berlin

Greece

- Athens

Hungary

- Budapest

Iceland

- Reykjavik

Ireland, Republic of

- Dublin

Italy

- Rome

Latvia

- Riga

Lithuania

- Vilnius

Luxembourg

- Luxembourg City

Malta

- Valletta

Moldova

- Chisinau

Monaco

- Monaco

Netherlands

- Amsterdam

Norway

- Oslo

Poland

- Warsaw

Portugal

- Lisbon

Republic of Macedonia

- Skopje

Republic of San Marino

- San Marino

Republic of San Marino

- San Marino

Romania

- Bucharest

Russia

- Moscow

Serbia

- Belgrade

Slovakia

- Bratislava

Slovenia

- Ljubljana

Spain

- Madrid

Sweden

- Stockholm

Switzerland

- Bern

Turkey

- Ankara

Ukraine

- Kiev

United Kingdom

- London
Asia
Armenia

- Yerevan

Azerbaijan

- Baku

China, People's Republic of

- Beijing

India

- New Delhi

Indonesia

- Jakarta

Iran

- Tehran

Iraq

- Baghdad

Israel

- Jerusalem

Japan

- Tokyo

Jordan

- Amman

Kazakhstan

- Astana

Kuwait

- Kuwait

Lebanon

- Beirut

Pakistan

- Islamabad

Philippines

- Manila

Qatar

- Doha

Saudi Arabia

- Riyadh

Singapore

- Singapore

South Korea

- Seoul

Syria

- Damascus

Taiwan

- Taipei

United Arab Emirates

- Abu Dhabi

Vietnam

- Hanoi
Oceanía
Australia

- Canberra

New Zealand

- Wellington
104
countries on
five continents
Your company improves
and we improve with you
inaCátalog is a sales tool specially designed to help you increase sales with each click. See for yourself how easily sales rep increase their numbers and volume of orders daily. If your results improve, ours too.

***Data collected starting from January 2014