The best sales tool
for the best companies
We put a complete sales and sales management system in your hands with all the techniques and resources that your company needs to be the best. Much more than just a catalogue. Much more than a sales management software.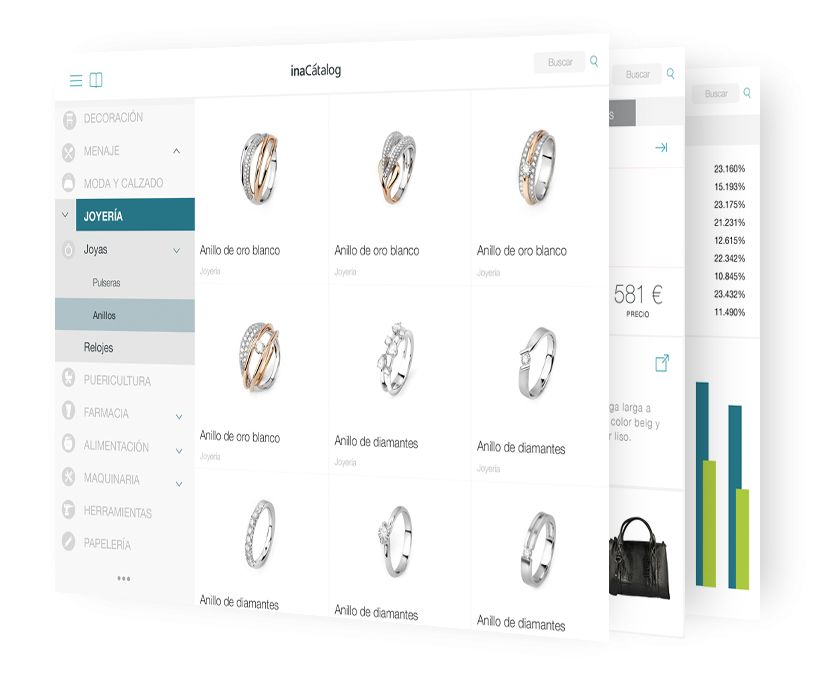 How does inaCátalog help me
An advanced centre statistics and management centre

Transform every click into useful information, analyse data and indicators in real time, make strategic sales decision-making easier. Take advantage of a valuable information source for Sales and Marketing departments.

Advanced sales management Plan routes, agendas, warnings and objectives

Manage and organise your sales force with advanced sales management tools: sales agenda, reporting in situ, sales routes, monitoring of KPI objectives, warnings and much more.

Synchronised channels and immediate updating

Synchronised work and sales channels in order to get updated information immediately with a single click. The entire sales force will work with correct data and correct prices always. Unify efforts and reduce tasks!

More sale units with a single click Promotions, offers, sizes and colours...

Take advantage of advanced sales techniques: related sales, cross-selling, promotional techniques as offers, discounts and promotions, special prices and multiple prices per type of product and client, management of sizes and colours…

The most advanced technology for specific needs

An ongoing sales innovation process. We develop specific solutions and ad-hoc customizations on demand in order to help you to be the best. Ask about our services obligation-free!
Download Team Sales The most effective sales system available on iOS,Android and Windows