Making a strategic sales plan is a task that, while probably complex, will be highly beneficial to the sales team and the company as a whole in the mid and long term, since it will let us identify which aspects we should strengthen or change in our organization in order to meet objectives.
The success of a company's sales plan lies in an adequate development and supervision, focused on boosting sales efforts. The document should detail and establish the necessary bases to improve the processes and accomplish sales goals, establish objectives and control their accomplishment and foster a greater economic growth.
In this article we will talk about the procedure to follow to draft a strategic sales plan and some key aspects to keep in mind. We will also see how to establish objectives and strategies, in addition to the sales tools that can help us measure our performance and manage to accomplish our goals.
Five steps to design a strategic sales plan
According to the Uncomo website, there are five basic steps when creating a good strategic sales plan:
Lay the foundations

The first step when designing a successful sales plan is analyzing the matters that are required for its performance. Among them we can find "knowing and analyzing the characteristics and potential of the product or products we offer, identifying our target audience and, most importantly, analyzing our competitors and what they offer."
We can also take data from previous years, if available, to make a forecast to use for guidance.
Defining realistic and well-detailed sales goals

It is advisable to define and detail the goals to accomplish during the business year. They should be set "taking into account our turnover needs, the business's profitability and its potential for growth within its market."
With this information as the starting point, we should describe the sales, position and awareness goals. They should be realistic and attainable by our team, so that it does not get demotivated or gets lost while attempting to accomplish it.
Determine sales strategies

In order to meet the aforementioned sales goals, we should also identify which sales strategies we are going to undertake. Strategies may be related to the distribution channel, the increase of final sales, improvements in customer management, etc.
In this regard, it is paramount to know our target audience in-depth, their tastes, needs and demands, as well as other information of interest (profile, purchasing patterns, segments…).
Specify the tactics and actions

It is also necessary to define what actions we are going to perform to improve business operations. Each of the tactics and actions mentioned during our sales planning must include a specific timeline for its execution, as well as costs and a ROI forecast. Anything from sales promotions to marketing actions, personnel recruitment, discounts to boost customer loyalty and others can be undertaken.
Measure, analyze and fix

Properly determining and taking the time to design a good sales plan is as important as following it and measure our day-to-day performance. This will help us compile key information, analyze data and detect failures and opportunities that may emerge in order to accomplish our goals.
If you review the plan every certain amount of time, for example, every six months, you will be able to more easily determine whether the desired results are being accomplished. You should also periodically update the strategic sales plan in order to respond to the evolution of market conditions.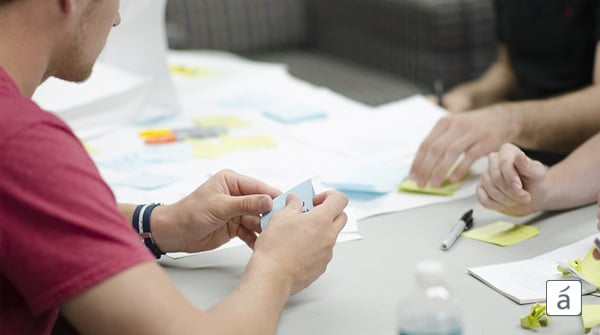 How to define goals for the sales team
A major part of sales planning is sales goals, since they will be the basis for the other items in the document. As already stated, goals should be realistic and attainable. With this in mind, there are a few tips and resources that we could employ:
Collaborate with your team

: get your employees involved. For example, you can accomplish this via brainstorming sessions that help identify ideas or obstacles. We must also take into account their reports and analysis, help them organize their appointments and

optimize their visits

and times.

Outline the necessary means

: make an inventory of the resources available at the company and verify that they can be used to accomplish our objectives. Otherwise, goals will have to be revised.

Detail all stages:

in relation to actions, costs, timing, human resources, etc.

Have an internal communication strategy

: our team must understand all aspects of the new sales strategy, which is why they must be explained to the employees and be available for consultation at all times. Having a tool that centralizes all the information will also be useful for the sales force to be able to review their performance and relevant data.

Periodically evaluate accomplishments:

this is one of the best ways to foresee unexpected problems or positive factors that affect the accomplishment of goals. To this end, having a good dashboard that lets us monitor the main

sales KPIs

will help guide our sales management and verify the state of our goals.
The strategic sales plan: objective monitoring
Creating a well-defined strategic sales plan that ensures good results in the long run is no simple task. It is necessary to take many variables into account, compile key information and be able to analyze obtained data. For this purpose, having the right technological tools that help us perform an adequate monitoring of the sales performance and goal accomplishment, will help us achieve our objectives and detect possible errors with enough margin to fix them.
In that regard, inaCátalog includes a sales dashboard in order to properly manage and plan sales. In addition to being the sales director's best ally, this sales app will help you keep track of the KPIs and the accomplishment of sales goals, in addition to improve decision-making and the design of a strategic sales plan, thanks to its data analyses, which enable you to detect behavioral trends, reasons for non-sales, and much more relevant information. On the other hand, it will result in a greater independence and efficiency for the sales force.