Companies invest on marketing intelligence in hopes of selling more and taking better advantage of new opportunities. But, how does marketing intelligence contribute to the success of our campaigns? In this post we will see how exploiting data will allow you to improve the ROI of your marketing campaigns.
At the time there is still a large gap between the marketing and sales teams. However, they are two faces of the same coin whose goal is none other than to increase business profitability. Knowing that both head in the same direction, it is time to establish strategies that help supplement both departments and increase sales. Including the sales report in our business intelligence is the best starting point to accomplish this.
Exploiting data through marketing intelligence allows, among other things, to generate value offers and personalised, segmented messages for each type of customer; working on new products or services that yield higher revenues; improve customer loyalty and increase the ROI of marketing campaigns.
What is ROI and why is it important?
ROI (Return on Investment) is one of the most widespread metrics of marketing teams. Calculating how much we have disbursed on each campaign and platform and how much each spent euro has yielded is the best indicator to know whether our marketing actions are working or not.
As pointed out by Google, it tends to be the most important metric for advertisers, since it is based on their specific advertising goals and shows the actual effect of the advertising strategy on the business. The exact method to perform the calculation depends on campaign goals.
Why is it important? If we calculate the ROI we will be able to find out how much money we have obtained via the marketing campaigns, which actions are working and which are not, and to what extent. With this data we will be able to better decide how to invest the budget on future campaigns in order to do so effectively, with more specific campaigns and over the channels that are working the best. We can also use ROI data to improve the yield of less successful campaigns.
And, how does sales data improve our ROI? Using sales data, combined with mathematical and statistical models, allows us to move from analytic methods to predictive methods, as well as take better advantage of marketing campaigns.
Marketing intelligence as a sales tool
Using marketing intelligence tools such as inaCátalog it is possible to study the activity of our sales agents, the duration of their visits, find the location from where orders are made, know their routes and learn about which products our customers are interested in and in which they are not.
Through the sales report features we will obtain the necessary data to better organise the work of our sales team and increase the profitability of marketing campaigns, in addition to:
Create predefined and configurable reports:

it has predefined, configurable templates to implement the joint strategy quickly and effectively, and you will also be able to customise your own reports, prioritising the data you need at each time.
Define and parameterise any requirement:

take any relevant information from the sales visit, the reasons for not selling and the handling of objections, and record the entire sales activity, study the competition and record anything from incidents to agent activities.
Study visits:

based on seller data for each period (day, week…), customer records, the relationship between orders and visits for each sales rep, as well as their average appointments per day or week.
Professionalise the tracking of sales activities. inaCátalog

displays the articles shown by each seller and how this relates with orders made. In this way, it is possible to know which are working better and which photo galleries or multimedia tools have been used, which articles help in closing sales, etc. In addition, comparing activities, order history, units ordered per view or the total per date, seller and article are greatly valuable for your marketing team.
The result will be twofold: one the one hand, we will effectively combine the methodology with technology in order for our sales force to have more resources at its disposal for an effective visit. On the other hand, our marketing department will obtain a higher knowledge of the consumers, the products and the markets.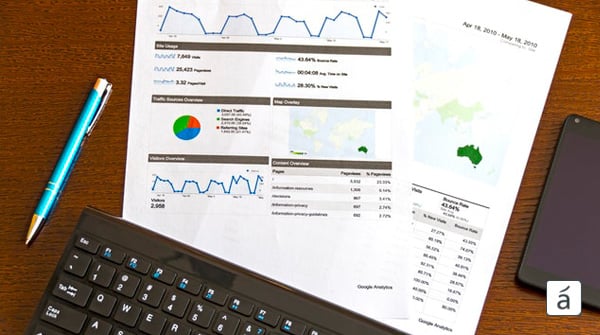 How a business intelligence tool helps your marketing team
As we have seen, there are tools that enable you to take advantage of this duality, create synergies between the marketing and the sales teams and facilitate the mutual enrichment in order to achieve efficiency.
For example, inaCátalog, the enterprise solution that includes interactive catalogues, helps the sales team to manage sales, take orders and integrate them anytime and anywhere with the ERP. Furthermore, its ability for making reports onsite provides your marketing personnel with a valuable source of information. Among its features, what marketing teams value the most is:
Its visual appeal.

Graphically, product presentation is highly complete and attractive for the customer at first sight. Additionally, information related to the offer is highly detailed.

Its ease of use and implementation

. Both sales representatives and marketing teams learn to use it right away since it is a highly intuitive app.

The fact that all of the information is accessible with a single click.

This tablet CRM system offers access to catalogues, spec sheets, databases, etc., at any time and place, simply and even without an internet access.

The harnessing of visits thanks to reporting.

Sales reports and traceability (the information registered by the sales rep and the interactions of the customer on the catalogue or associated items on offer) allow sellers to better prepare for each visit and the marketing department to know the ROI of each of its marketing pieces.