Do you want to create catalogs that sell more and are more useful and attractive? inaCátalog lets you create personalized catalogs in five minutes to help you sales force become more effective and close orders faster and more successfully.
How does it accomplish this? This catalog sales app has hundreds of functions that the client can add to sell more and faster. Its catalogs are interactive and the adjustable parameters can be tailored to each of the company's needs.
While some time before we showed you how the tool can help you control your stock in real time or make reports to increase the profitability of sales efforts, this time around we show you how you can create personalized catalogs in five minutes with inaCátalog. This way, you will be able to segment your products based on the type of customer and better care for their needs, as well as strengthen the bond with the user. The result will be speed, efficacy and increased sales.
How to create personalized catalogs with inaCátalog
inaCátalog adds mobility to the sales force and creates segmented and personalized product lists that will help you close larger orders, faster. These are the most useful features to create personalized catalogs with inaCátalog:
Sell much more with just a click: using bundles
Bundles are product packs that allow you to suggest the purchase of sets of products to a specific customer who has shown interest for any of them in the past.
The bundle is a way to group products under a single article, multiplying the volume per order hundredfold so that you can save in sales efforts. It can be used both to sell POS displays and to sell several bundles containing several sizes and colors with just one click.
Special promotions
inaCátalog can create a complex system of rates where we have specific prices for a customer, special offers, multiple rates… It shows us how each rate behaves, and inside it rate it displays price ranges based on included item amounts.
On the other hand, thanks to the promotion button we will have several offers and their details just one click away, being able to sell several products instead of a single unit.
Keep on reading: How to speed up the sales cycle for complex products
Sizes and colors system
inaCátalog's sizes and colors system is infinitely faster: using a grid, it allows you to fill out an order much faster, thanks to the inclusion of product sizes and colors, as well as entire looks.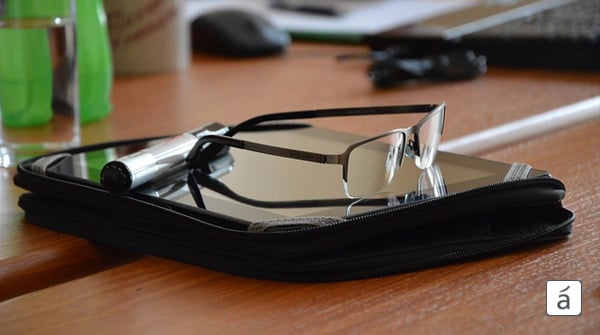 Refines the search using filters
Filters allow you to quickly find products, and are one way to present catalogs based on customer profiles and offer those that the user is looking for at every moment.
When we execute a filter and present the products that are displayed within that limited search, we will be able to focus the sale and show products much faster than if we were browsing pages to find products. In summary, we will be able to take better advantage of digital sales.
inaCátalog allows items to be divided based on several criteria:
Up until now, we were used to inheriting the item description from the company's ERP. However, inaCátalog includes a field for detailed descriptions, were many characters can be added and, in addition to describing the product, we can add search tags – and use them for indexing – that can later be used to find the item.
Location of products based on customer consumption. It shows products bought by a customer within a certain time period or in the last order, among other criteria.
In addition to finding certain products, it let you add data variables in order to know the number of sold units and units pending delivery, yearly sales comparison, consumption information, etc. The history-based filter allows you to find products consumed in a specific period by a customer and displays them, making it easier to make repeat orders in the blink of an eye.
In addition to filters per name or certain characteristics, they allow for the selection of a specific price range with a specific stock level.
They filter based on specific requests by prospective customers, the let you find things such as "which products did a customer not buy from me," "what usual products for this type of customer is he not buying from me," "what products is this customer buying less of in relation to the previous year." With 3 or 4 parameterizable filters the sales team can find anything.
You might be interested in: Advantages of measuring sales and marketing traceability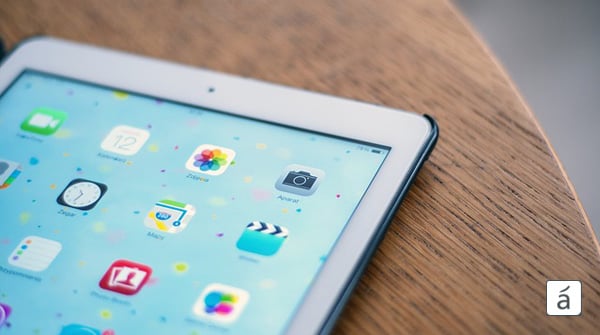 How to control sales with a dynamic catalog
In addition to allowing you to configure personalized catalogs in a few minutes and filter products in order to be more effective, inaCátalog lets you accelerate sales by letting you generate:
Past orders:

it may be a previous order, a template order or one that I have pre-made. In this way, we will only need to duplicate the order we have already prepared and remove or add specific items. Much faster than creating an order from scratch.

Files attached to products

: if you provide your sales team with sufficient technical material, you help the salesperson sell with more skillfully. In more advanced cases, for example in the pharmaceutical or industrial sector, attachments are interactive documents that let the salesperson carry out the sale much faster and thoroughly, having the ability to add product technical specifications, among others.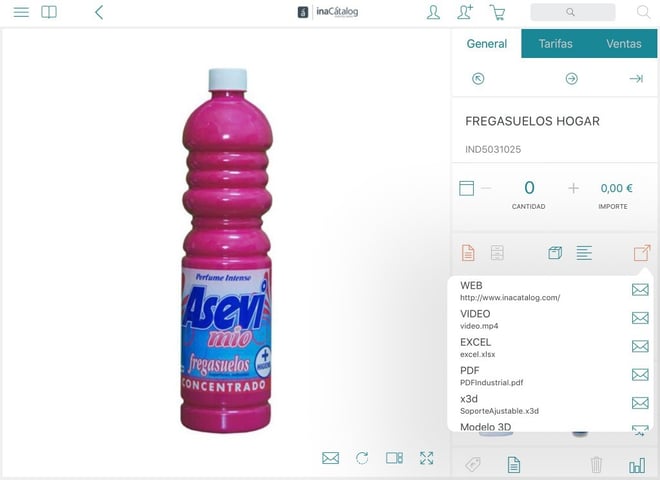 Image at: https://drive.google.com/open?id=0B_FCdM4-R9-FWm9nM3cxMlhpNmVpN3dxakY5by1JOWNHVkxz
Surveys

: in order to make sure the buyer is understanding what we are saying at all times. We guide the salesperson and he can make a more technical sale, since he know the product better and can offer it better.

Customer attachments

: we can add information about each type of customer to sell more (statistics, analysis, comparisons…). The better we know the customer, the better we can serve him. It will even let us attach files in video, PDF, Excel, 3D visualization, GIF and many other formats.

Cross-selling and upselling:

inaCátalog has 3 product organization levels: it allows for several photos of a product, cross-selling and upselling, which help the salesperson easily increase the orders volumes. We can add any item we want to sell.

Full customer records:

general information, details (marketing-oriented information), sales information (economic), all contacts… In customer databases we can not only find ERP users; prospective customers and other customer categories should be contained as well; which we will later be able to geolocate thanks to the tool. This helps salespersons better find sales opportunities.
Strengthening proactive sales
inaCátalog is always thinking about, and developing, new techniques and features for its tool which help better categorize our products, create personalized catalogs and boost sales.
Its filters are proactive; they show products automatically and allow you to generate orders faster, as well as create catalogs based on filtered items. Moreover, you can configure exclusive catalogs per agent, per area and others using the back office.
As a result, the tool lets you create dynamic catalogs quickly and simply, allowing the marketing department to adapt to ever-changing needs and market situations, and the sales agents to be more proactive and sell more. Through this, our company is able to stand out from its competitors and start getting results since day one.
Now that you know how inaCátalog lets you create personalized catalogs in a few minutes, learn how its mobile CRM will help you improve your decision-making. Download our eBook "How to choose the best mobile CRM to boost your sales" for free.